Gladstone's Land was the house of a wealthy merchant from the seventeenth century. Completely restored in the late 1930's, it is now a house-museum that explores in detail how the city's residents lived in the Old Town over 400 years ago.
A glimpse of the past
In 1934 the "Land" (house) was rescued from being demolished by the National Trust of Scotland. The building, which had been established in 1550, was transformed into a house museum. Currently, six of its rooms are open to the public and all include original items from the 1600s, antiques and period decoration.  
On the building's ground floor there is a reconstruction of a small craftsman's workshop from 1620. While on the first floor, the rooms represent the living quarters of a prosperous family from the seventeenth century. Some of the museum's highlights include the beautiful period furniture and the original painted ceilings perfectly preserved since 1620.
The Green Room is one of the main rooms of the house where visitors can discover the technological developments that made life easier for the people that resided in this townhouse during the eighteenth century.
An enjoyable visit
Gladstone's Land is the perfect place to discover how the locals of the Old Town lived during the seventeenth and eighteenth century. Apart from the building's architecture and decoration, inside you'll find volunteer guides that explain details of the citizens' daily lives.
Take into account
Gladstone's Land can only be visited by guided tour, and all tours must be booked in advance. To book this tour, call 0131 226 5856.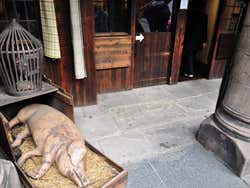 Schedule
Open daily: 10 am – 5 pm
Important: the building is currently closed for renovation works until August 2020
Price
Adults: £ 7.50 (US$ 9.30)
Family: £ 16.50 (US$ 20.50)
Concessions: £ 5 (US$ 6.20)
Transport
Buses: George IV Bridge , 27, 45, 42, 2 and 41

By foot from High Street