Where to Stay in Edinburgh
Tourism is an important pillar for Edinburgh's economy. With a population of a little less than 500.000 and over 500 hotels, hostals, B&B and guest houses, the ratio of hotel beds relative to the population is one of the highest in Europe.
The cost of accommodation is also relatively high, very similar to the prices in London.
Best places to stay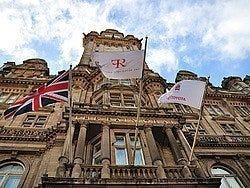 The most famous hotel in Edinburgh, Hotel Balmoral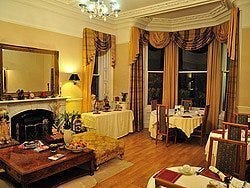 Lounge of a Guest House
Since Edinburgh is a somewhat small city it is rare to find hotels that are located far from the city centre. The best and most popular area to find accommodation is the Royal Mile (High Street) and its surrounding streets and closes (passageways). Princes Street, located a ten-minute walk away from the historic centre is also a great option.
If you prefer to find cheaper accommodation then the best alternative is to find a guest house, many of which are located on the main streets leading into the centre of Edinburgh. Since the city has a very good public transport system, you'll find several bus lines that will take you into the heart of the city.
Hotels in Edinburgh
A double room is rarely less than £50 (60€ or $67) per night. It depends of course on the time of year and how much time in advance you book your hotel. The average rate of a mid-range centrally located hotel is £85 (100€ or $112) per night.
During August, when Edinburgh's festivals take place, the prices of hotels in Edinburgh normally double.
To find the best deals we recommend our search engine where you'll find the best accommodation rates guaranteed and discounts of up to 75%:
Apartments in Edinburgh
Serviced apartments are a great alternative to hotels and have become extremely popular these past years, especially if you're travelling with a group of friends or family. To find the best offers, check out our search engine:
Hostels in Edinburgh
Hostels are the cheapest option and a good alternative for groups of friends or tourists travelling by themselves. In Edinburgh you can find a shared room for less than 10€ a night. The prices of hostels are surprisingly cheap when you compare it to the rest of accommodation.
The best websites to find hostels are: