Get to know the story of Bobby, the dog who didn't move from his position next to the grave of his master until the end of his days.
Greyfriars Bobby is Edinburgh and probably Scotland's most loyal dog. This Skye Terrier guarded over his owners grave for fourteen years until he passed away.
Faithful unto death
Bobby, a long-haired Skye terrier belonged to John Gray, an Edinburgh policeman. Grey and Bobby were best friends until the officer passed away from tuberculosis in 1858. When Bobby's master was buried in Greyfriars Cemetery, the dog accompanied his friend and lived for the following fourteen years in the Cemetery, next to his owner's grave, and hence why he is called Greyfriars Bobby.
During this time, Bobby's loyalty to his master became notorious in Edinburgh and people would go to the Cemetery to feed him and give him water. In 1872 Bobby died and was buried not far from John Gray's grave so that they could finally be together.
A local hero
Since his death, Bobby has become a local hero and is still remembered to this day. A statue of Bobby was placed on the south side of George IV Bridge and citizens and visitors can visit his grave in Greyfriars. His dish and collar are shown at the Museum of Edinburgh and numerous books and films have been made about his life.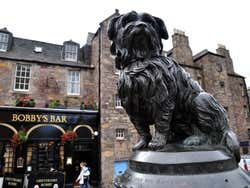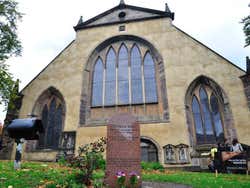 Transport
Buses: Chambers Street, 23, 27, 41, 42, 45 and 67.