The People's Story Museum
As its name suggests, the People's Story Museum reflects the day to day of the citizens of Edinburgh from the eighteenth century to the present day.
The museum, opened in 1989, is housed in a building dating from 1591 which was once used as a prison. Visitors will be able to observe some traces from that time.
The exhibitions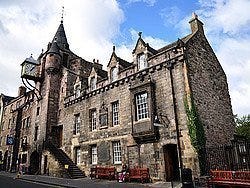 People's Story Museum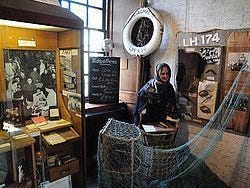 People's Story Museum, Edinburgh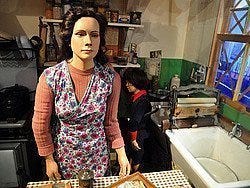 Kitchen from the beginning of the 20th century
The museum's three floors feature several exhibitions that reflect the lives of Edinburgh's citizens, from their day to day jobs to the way the Scottish people enjoy their free time and holidays.
The first floor houses various large life-size waxwork that show the daily lives of the town's inhabitants from the eighteenth century; how they earned their salaries, how their houses were, or how the criminals were punished.
Climbing to the next floor you'll get to the nineteenth and twentieth centuries when the cooperative movements and businesses become more organized and more specialized. In times of war poverty seeps into the households and the exhibitions show how families struggle to make ends meet and make the most with what they have.
After a hard day's work, it is finally time to relax. The exhibitions on the third floor reveals how the people of Edinburgh spent their free time and holidays, especially at home. Other important topics that are portrayed on this floor are how religion and culture have influenced the different generations.  
An enjoyable visit
The People's Story Museum is one of the most visually-attractive and experiential museums in Edinburgh. Visitors will spend an enjoyable few hours exploring the detailed life-size models that reflect different aspects of the city's residents. It is not often that you get the chance to walk into a war period kitchen or a bindery shop from the nineteenth century.
Not only is it very entertaining, but it is excellently located in front of Canongate Kirkyard (Cemetery) and the Museum of Edinburgh. Moreover, the entrance is free, so there is absolutely no excuse not to visit it!
Location
Canongate Tolbooth, Royal Mile
When to visit
Monday: 10 am – 5 pm
Tuesday and Wednesday: closed
Thursday – Saturday: 10 am – 5 pm
Sunday: 12 pm – 5 pm

Fares
Free entry, donations are welcome
Transport
Buses: Canongate Kirk, 35 or 36.
Map
Hotels nearby