The Museum on the Mound explores the unusual history of money, economics and the bank of Scotland, from its origins to its role in the present day.
True to its name, the Museum on the Mound is housed in the head office of the Bank of Scotland, which also currently serves as the headquarters for Lloyds Banking Group. The building is probably one of Edinburgh's most characteristic, along with Edinburgh Castle. Its classical architecture and its beautiful nighttime illumination make it one of the most impressive buildings.
The head office was initially built between 1802 and 1806 and it was improved, reformed and enlarged on various occasions, the last time in the twenty-first century. The building dominates The Mound, the artificial hill that connects the Old Town and the New Town.
The exhibitions
The Museum reflects how the building has changed and how the banking system has evolved. It also focuses on money, insurance, pension plans and finally, on how the city has grown.
Among the most surprising items of the museum is an eighteenth-century iron kist (chest), one million pounds in cash in a display cabinet and the first Scottish bank note from 1716.
Many will be surprised to find out that Scotland had its own pound currency before England and that this fact played a key role in the political and monetary union in 1707.
Definitely worthwhile
Like many other museums in Edinburgh, the Museum on The Mound is free to visit and its employees' kindness is worth highlighting.
The visit is definitely worthwhile, especially on a cold and rainy day, when it is difficult to visit the city by foot. What's more, there are interactive activities for children, like a miniature of the building in blocks.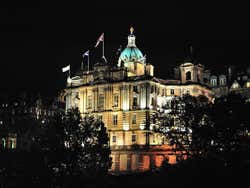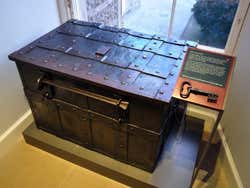 Schedule
From Tuesday – Friday: 10 am – 5 pm
Saturday, Sunday and holiday Mondays: 1 pm – 5 pm
Mondays (except public holidays): closed
Transport
Buses: 23, 27, 41, 42 and 45