The Writers' Museum commemorates the lives and works of three of the greatest Scottish writers: Sir Walter Scott, Robert Burns and Robert Louis Stevenson.
The Museum is housed in the beautiful mansion called Lady Stair's House, which was built in 1622 and it is named after an early owner, Elizabeth, Dowager Countess of Stair. The building was donated to the City of Edinburgh in 1907, to be transformed into a museum.
The exhibitions
The life-stories of these three writers are told through manuscripts, books and portraits, as well as numerous personal items.
Some of the most important objects housed in the museum include the printing press on which Sir Walter Scott's novels were printed, his dining table, Robert Burn's writing desk and Stevenson's fishing rod and smoking pipe.
A charming mansion
Even though you might not be a Scott, Burns or Stevenson enthusiast, the Museum is situated on the Royal Mile, the historic building where it is housed is very charming and the entry is free; therefore, we recommend dropping by, if only for a little bit.
The Writers' Museum is situated in Makars' Court, a patio with a national literary monument where visitors can see slabs with famous quotes of great Scottish writers. The words range from writers from the fourteenth century to 2006.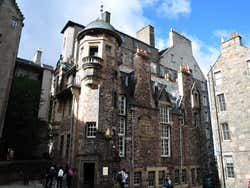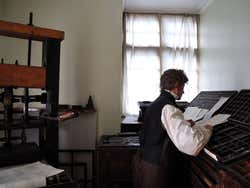 Schedule
Monday and Tuesday: closed
Wednesday – Saturday: 10 am – 5 pm
Sunday: 12 pm – 5 pm
Price
Free entry, donations are welcome
Transport
By foot from High Street