At 200 feet (61 meters) tall, the Scott Monument is the largest monument in the world dedicated to a writer.
Inaugurated in 1846, Scott Monument is a Gothic monument built in honour of the Scottish writer Sir Walter Scott. ​The tower, on Princes Street, is blackish in colour giving it an eerie beauty. The spire is decorated with 64 figures representing various characters from the writer's novels.
Contrasting with the blackened construction, is the white marble statue of Sir Walter Scott that shines when the rays of sun hit it.
A difficult climb
If you want to climb to the top of the tower you'll have to go up 287 steps, which are divided into four levels where you can stop for a while and explore if you wish.
As you ascend further up the spiral staircase, it becomes more and more difficult since the walls get narrower and the stairs become unsteady. Although the climb can seem endless and a little agonizing, the effort will have been worthwhile once you reach the summit. Here you'll be able to enjoy some of the best views of Edinburgh.
Stunning views
Unless you suffer from claustrophobia or have a problem that makes it impossible for you to climb to the top of Scott Monument, we definitely recommend climbing to the top to enjoy its breath-taking views.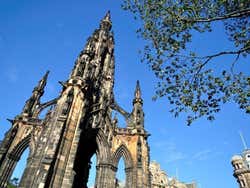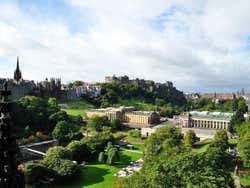 Schedule
From April to September:
Open daily: 10 am – 7 pm
From October to March:
Open daily: 10 am – 4 pm
Price
Adults: £ 8 (US$ 10)
Children and Students: £ 6 (US$ 7.50)
Family pack (2 adults and 2 children or 1 adult, 3 children): £ 20 (US$ 24.80).
Transport
Buses: Princes Street, 19, 29, 36, 37, 41, 42, 43, 47, 129, X4, X29, X43 and X47.