The Parliament is situated on the bottom of the Royal Mile, on the land previously owned by the brewing company Scottish and Newcastle. 
Located beside the Palace of Holyroodhouse and built in 2004, the new Scottish Parliament building represents the recovery of the legislative power by the Scots after three centuries of union with the United Kingdom.
Architecture
The new Scottish Parliament building was opened on 7 September 2004 after over five years of construction. The Parliament was designed by the Spanish architect, Enric Millares who died four years before it was inaugurated.
The creation was criticised for numerous reasons, principally because its final cost was ten times higher than initial estimates. Another aspect which displeased many citizens, media and politicians was the modern design of the building, making it stand out on the Royal Mile.
Visiting the Scottish Parliament
Depending on when you go, it is sometimes possible to get a guided tour of the building or attend Parliament debates from the public gallery of the Debating Chamber.
A guided tour of the Parliament is available from Monday to Saturday in the morning (from 10:30 am to 12 noon) and in the afternoon (2 pm – 3 pm). During this guided tour, you will visit the Debating Chamber, the dramatic vaults of the Main Hall and other interesting rooms. If you are interested, we recommend booking in advance on the Scottish Parliament official website because tours are subject to availability.
As well as visiting the main rooms of the Parliament, by yourself or with a guide, tourists can also visit the Parliament shop, café and Parliament Exhibition.
If you have enough time
Although the Scottish Parliament building is free and unique, we recommend only visiting this attraction if you have enough time and have seen Edinburgh's top monuments and attractions first.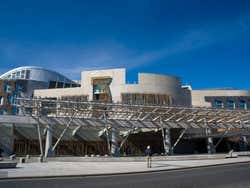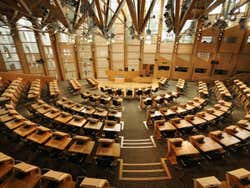 Schedule
Tuesday, Wednesday and Thursday: 9 am – 6:30 pm
Monday, Friday and Saturday: 10 am – 5 pm
Monday to Saturday: 10 am – 5 pm (When Parliament is in Recess)
Public holidays: 10 am – 5 pm
Transport
Buses: Scottish Parliament, 36; Abbeyhill Crescent, 35.