Reopened to the public in 2003, Mary King's Close is one of the best known closes in Edinburgh, which displays the misery and illness which plagued the city throughout the 16th and 17th centuries.
The Real Mary King's Close is one of the closes (alleyways) situated under the Old Town buildings, on the Royal Mile. Although it was closed to the public for many years, Mary King's Close is now reopened to Edinburgh's citizens and visitors. Booking a tour down this Close, you'll discover tales of the plague victims, murderers and their prey, all of which have now become ghosts that haunt the Close.
Tour of the underworld
Re-open to the public in 2003, Mary King's Close, now called The Real Mary King's Close, reflects the poverty, gloomy and ill-infested Edinburgh from the sixteenth to the seventeenth century.
During the visit through several closes, visitors will get a chance to see the living spaces of the poorest inhabitants of the Old Town, where it was lucky if they survived the bubonic plague or any other terrifying disease of the time.
After wandering past crime scenes and discovering the houses of some of the residents, you might be lucky enough to meet Annie, a small girl that cries inconsolably because she lost her doll hundreds of years ago. Many visitors bring toys, sweets or dolls to give to Annie so that she can rest in peace and no longer haunt the alleyways of the Old Town.
You'll be pleased to know that all the toys which are brought by the visitors are then donated to children who need them most. 
Dark and chilling
During The Real Mary King's Close tour there are no actors dressed up as ghosts or people there to frighten you. Visitors will be shocked by the humidity of the place and the spine-chilling stories based on real people that lived, worked and died in the Old Town.
We do not recommend the tour if you suffer from claustrophobia or if you are afraid of the dark. On the other hand, if you think the tour is going to scare you, you will probably be disappointed.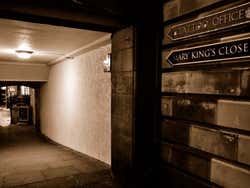 Schedule
April – October:
Open daily: 9:30 am – 9:30 pm (last tour)
November – March:
Sunday – Thursday: 10 am – 5 pm (last tour)
Friday and Saturday: 10 am – 9 pm (last tour)
Price
Adults: £ 18.95 (US$ 23)
Students & over 65s: £ 18.95 (US$ 23)
Children (aged 5 – 15): £ 12.45 (US$ 15.20)
Transport
By foot from High Street.