Surgeons' Hall Museums
Surgeons' Hall Museums explores the history of medicine and the development of surgery and dentistry throughout the centuries. It was initially founded as a medical teaching means and, in 1832 it opened its doors to the public making it the oldest museum in Scotland.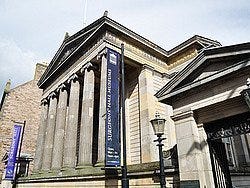 Surgeons' Hall Museums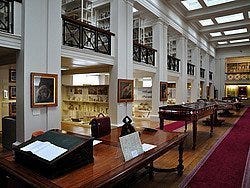 Main hall of the Surgeons' Hall Museums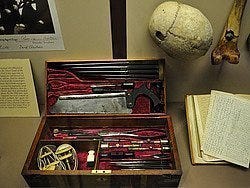 Surgical equipment and other items
The Royal College of Surgeons was founded in 1505, originating the Museum in 1699. The College is dedicated to the education, training and a rigorous examination of the surgical practises.
Exhibitions
The Wohl Pathology Museum is located on the top floor where visitors will be able to see an interesting collection on the study of diseases.
The History of Surgery Museum is found on the ground floor. The museum explores Edinburgh's contribution to the practise of modern surgery. The first surgeries were not well defined at the beginning, which lead to many barbers to perform complicated surgeries without any medical knowledge.
Through the years, important discoveries were made such as the use of chloroform as an anaesthetic before the operations. The museum also houses a mock anatomy theatre.
There is also a Dental Collection where visitors can see the evolution of the dental techniques throughout the centuries and a display of surgical instruments.
Curious and a little disturbing
Surgeons' Hall Museums is the major medical museum in Scotland, an instructive place for locals and visitors interested in Medicine. It features surgical instruments and equipment as well as specimens, including human remains in chloroform, which might be a little disturbing to see for those who have not studied medicine or intend to.
Location
Nicolson Street
When to visit
Open daily: 10 am – 5 pm
The recommend age to visit the museum is older than 10.

Fares
Adults: £6
Seniors (over 60) and students: £3,50

Transport
Buses: Surgeons Hall, 2, 3, 5, 8, 14, 29, 30, 33, 48, 49, 51, 52, 86 and 95.
Map
Hotels nearby