The Scotch Whisky Experience shows how whisky has been distilled over hundreds of years, the various types available and includes a tasting of its surprising whisky collection.  
The Visit
At the beginning of the visit, you will get to climb aboard a barrel (as if it were an amusement park) which will take you through the different stages of the Scotch whisky production.
Videos show how the whisky-making process begins with the barley, followed by a long process of fermentation of the grains, distillation and finally, the whisky is placed in a wooden cask and then poured into glass bottles.
After the tour in a wooden barrel, the visit continues with an explanation of the places in Scotland that produce different varieties of whisky. You will be given various samples so that you can see the differences, noticeable by smell and taste.
The circuit will culminate with a visit to the world's largest whisky collection that includes bottles from several periods and in various shapes and sizes.
If you would like to taste more whisky, or would like to warm up a bit more before leaving, you will be given the chance to do a more in-depth comparative whisky tasting.  
Water of Life
Although it is well known that whisky was not recently "discovered", it is still surprising to find out that there is evidence that shows that the first whisky distilled dates back to 800 BC.
The first written records on Scotch whisky dates from 1494. During the fifteenth century it was called "aquavitae", the Water of Life, which translated into Gaelic is "uisge beatha", whisky in English.    
Is it worthwhile?
Although the Scotch Whisky Experience offers a general vision on the history and evolution of the national drink of Scotland, the Scotch whisky, this attraction might be better suited for those who love whisky and are interested in a tutoring session of the various types of whisky available. If you're not a fan, and especially if you are travelling with children, the tour might be a little tedious.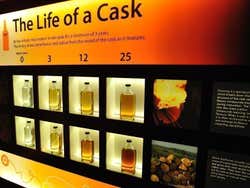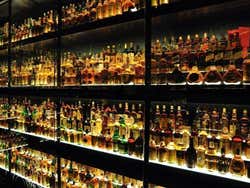 Schedule
January – March:
Open daily: 10 am – 5 pm
April – July:
Open daily: 10 am – 6 pm
August:
Monday – Friday: 10 am – 5 pm
Saturday & Sunday: 10 am – 5:40 pm
September – December:
Open daily: 10 am – 5 pm
Price
Adults: £ 19 (US$ 24.10)
Concession: £ 17 (US$ 21.60)
Children: £ 8 (US$ 10.20)
Family Pack: £ 42 (US$ 53.40)
(Prices vary depending on the type of tour you prefer)
Transport
By foot from the Royal Mile