Our Dynamic Earth
Our Dynamic Earth offers its visitors the chance to take a journey through time to discover the past, present and future of the planet Earth thanks to various exhibitions.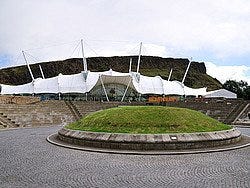 Our Dynamic Earth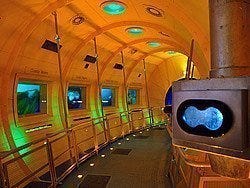 Discovering Our Dynamic Earth
The museum, which is shaped like a huge white armadillo, tells the story of the planet Earth's past 4.500 million years to show how life has evolved.
The exhibitions
Like the creation of the Universe, the exhibition starts with the Big Bang theory. In this first room, visitors will "feel" how the Earth was created and discover its evolution.
In the museum it is possible to find yourself face to face with an extinct dinosaur, in the middle of an earthquake, feel the humid heat of a tropical forest, and fly over Scotland's prehistoric glacier. The evolution of the country's inhabitants or the climate change are also exposed in Our Dynamic Earth.
Finally, visitors are shown a 3D projection in the Planetarium.
Could be more interactive
Our Dynamic Earth tells the story of the creation of the planet Earth and could be extremely interesting if it had more hands-on and interactive exhibitions, but most of the rooms just tell the story of various processes that have shaped the Earth.  
Location
112-116 Holyrood Rd.
When to visit
23 March – October:
Open daily: 10 am – 5:30 pm
July and August:
Open daily: 10 am – 6 pm
November – 22 March:
Wednesday – Sunday: 10 am – 5:30 pm

Fares
Adults: £12,15
Children (ages 4 – 15): £8,10
Concession: £10,35

Transport
Buses: Scotsman Office, 35 and 6.
Map
Hotels nearby